I put my hand on my cock and guided it to his hole before thrusting it in and I didn't stop until my whole shaft was in his hole. He leaned back and moaned again as I began thrusting my cock into his ass. I stood back up right, grabbed onto both of his shoulders and began to thrust harder and harder.
"Oh yeah, your ass is so soft and tight" I said as he moaned in pain. I leaned over his back so my chest was flat against his back again, reached for his hands which were tightly gripping the blankets and continued to thrust as hard as I could as I grabbed his hands. I felt my climax coming and I shot my load in his deep inside his hairy ass... Mmmm, I had a great F*cking time last night!
Big Daddy,
Denver Co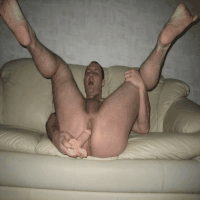 Got a personal story?
Share your experiences:
masculinecompany@gmail.com